This year's Adult Winter Reading Program began January 15 at the Grove City Public Library and runs until March 15. Sign up any time in January or February.
As in previous years, participants read and rate books to earn prizes. Winter can be a good time to have a reading goal, and this year it's true more than ever. Participants get one prize after reading three books, and another after a total of six.
It's possible to participate in this year's program without ever setting foot inside the library if you choose. Everything can be done either inside the library or through curbside service.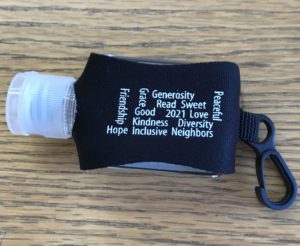 To participate in the program, ask to sign up when you call from outside to pick up your things curbside, or sign up when you're in the library. Participants will get a reading log, a bookmark, and a small portable hand sanitizer container with a clip to attach to a bag. The hand sanitizer is this year's sign-up incentive instead of the usual tote bag. Bags will be available as a prize choice.
Any type of book can be counted for the program: new or old, library book or your own, fiction or nonfiction, ebook, audiobook, or print. Write down your books on the reading log and rate them.
When you have read three and again when you have read three more, you can turn in your reading log inside the library and get your prizes immediately, or you can put your reading log in the book drop. Before dropping the sheet into the book drop, be sure to write down your prize choice. Library staff will be in contact if that prize is no longer available. Prizes can be delivered curbside, and if you turn in your sheet after three books, your reading log will be returned to you so that you can finish the program.
Prizes this year include a mug, a tote bag, a memo book, a large candy bar, and an insulated bottle cover. The mug is more golden than it appears in the photos.