T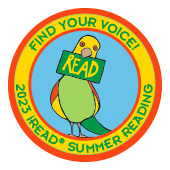 his summer, kids and teens are invited to "Find Your Voice," the theme of this year's summer reading program at the Grove City Public Library. Speaking, reading, writing, making art, and actions we take are all ways we express ourselves.
Kids and teens up to age 18 can sign up for the self-paced reading program starting Tuesday, May 30. No need to worry if you can't get to the library that day; sign-up continues all summer. The Grove City program ends August 15.
When kids sign up, they'll get a book bag, a bookmark, a small treat, and a reading log.
The summer reading program is always self-paced. Children work their way through the reading game sheets, earning spaces by reading or being read to for 20 minutes (counting up to an hour a day), and by doing other activities like being active for at least 20 minutes, reading aloud to a person or a pet, or attending a library program. For teens, there's a more straightforward sheet for tracking hours of reading. Whenever kids bring in a completed sheet, they can choose from a wide variety of small prizes.
The goal of the summer reading program is to encourage kids to read all summer long so that they keep up their reading skills and return to school in the fall ready to learn. Because of that, kids can do one reading sheet after another all summer until late August and keep earning prizes.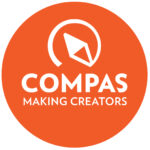 Mark your calendars for some special events! The library is hosting a selfie portrait painting class on Friday, June 9, from 1-3 p.m. in the community room. COMPAS Teaching Artist Heidi Jeub will be teaching students to create a portrait of themselves, after teaching them about color mixing, proportion, and composition. This program is open to all ages, but space is limited, so make sure to sign up in advance. Free to attend, this program is funded through the Minnesota's Arts and Cultural Heritage Fund.
On Monday, June 26, join us in the community room at 2 p.m. for "Science Heroes: Saving Earth Together." Science and stories collide in this  interactive STEM program. Two unlikely heroes must learn to work together to stop a super polluting mastermind. Throughout the story, kids will help the performer conduct amazing science experiments all about air pressure, the laws of motion, chemical reactions, and much more! This free science program is geared to kids in grades K-5, and there's no need to sign up in advance.
CLIMB Theatre will be performing "The Ant & the Grasshopper" for kids on Thursday, July 13, at 4 p.m. in the community room. This mini-play supports literacy and reading readiness, so it's especially great for young children. In this continuation of Aesop's Fable, "The Ant and the Grasshopper," two friends compete together in the "Find Your Voice" competition. However, hardworking Ant and playful Grasshopper are having trouble finding their harmony. With the help of Queen Bee and the audience, Ant and Grasshopper will learn to BEE kind, BEE a friend, and BEE together as they work toward creating a sound where everyone's voice is a part of the chorus. This is another program funded through the Arts and Cultural Heritage Fund. As with all library events, it's free to attend. There's no need to sign up in advance for this performance.
For current information, visit the library's website at grovecity.lib.mn.us or the Grove City Library Facebook page, or visit the library in person to learn more about what's offered this summer.